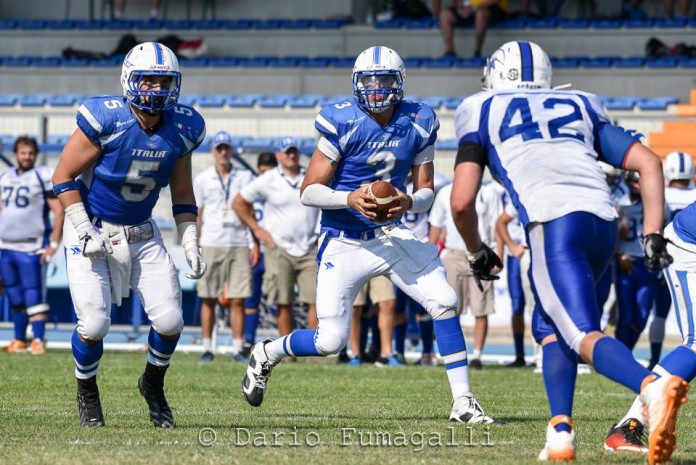 il Quarterback della nazionale Luke Zahradka giocherà con il numero 7 nella prossima stagione, una scelta che è stata caldeggiata da Tato Zamichieli e da Coach Addona, dopo aver analizzato le possibilità che il regolamento dava e dopo aver messo a roster la forte safety all purpose Paul Morant, la squadra si è dotata di un oriundo di eccezione, Luke sarà sicuramente il riferimento del team e dei ricevitori, carattere forte e uomo squadra, è indubbiamente un talento che cresce ancora oggi ogni giorno, e certamente giocare nel football italiano lo avvicinerà ancora di più ai cuori dei tifosi della Nazionale che il prossimo anno affronterà gli svedesi per un posto nel gruppo A dei prossimi Europei, Luke si è dichiarato molto felice ecco le sue prime parole dopo aver informato il coach della Nazionale Davide Giuliano "orgoglioso di far parte di una squadra vincente con ancora tanta voglia di tornare a vincere il Gionni Colombo Trophy", la scelta è caduta proprio sulla possibilità di dare all'attacco più armi inclusa quella di usare Paul Morant come ricevitore o Running Back avendo in campo appunto Luke come Oriundo, potenzialmente quindi un attacco più forte degli anni scorsi, sicuramente pass oriented, ma con Binda, Stillitano, Bonaparte e Raffaele che garantiscono forza e talento nel running game dei Seamen, oltre a Nuzzi la stella della squadra giovanile.
Per chi non lo conosce Luke è nato il 4 luglio 1991, 25 anni ha studiato Marketing all'università di Bentley
nel link potrete vedere i filmati di tutta la sua carriera, record e statistiche.
Luke si racconta
My name is Luke Zahradka, I was born on July 4, 1991 in Franklin Square, New York. I have three brothers (CJ,Kyle, Drew) and a sister(Nicole). I played football at Bentley University from 2009-2013. Played with the Italian National team this past year and won MVP of the Group B European tournament. Threw for 489 yards on 32-51 passing for 5 TD's and 1 int in 2 games. Played in Prague where our team won the Czech Championship. In 2015 played for the Ancona Dolphins. Went 8-2 in regular season. Threw for 2205 yards while throwing 25 TD and 5 int. In 2014 I played for the Amiens Spartiates, where we won 9 games and tied 1 in the regular season. Threw for 43 TD in 10 games.(France Record)
I'm really excited to join such a historical and well known program in the Milano Seamen. I I would like to thank the organization and coaching staff for selecting me to be the guy to help lead the team this year. Getting to play in a big city in Italy has always been something I wanted to do and I know that Milan will be a great fit for me. I'm really looking forward to coming in and getting ready to practice and work hard with my new teammates. I can't wait to play in front of the great Seamen fans and help bring a championship back to the organization!
Ci vediamo a presto!
Benvenuto a Milano grazie Luke