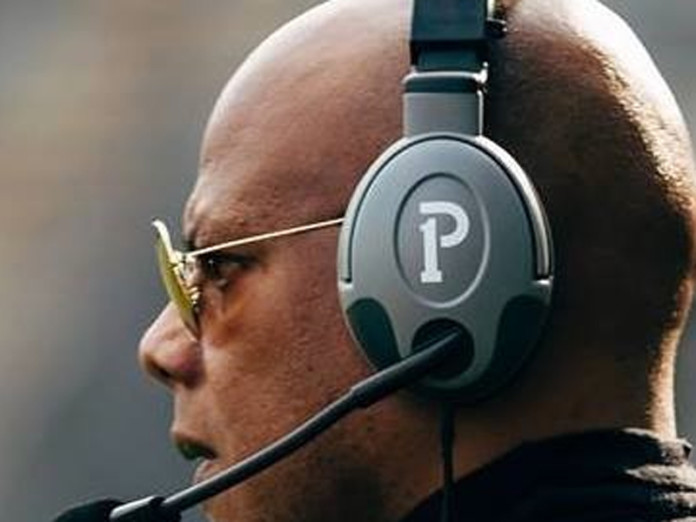 Ciao Coach and Benvenuto
CIAO MR. MUTTI, COACH ADDONA, SEAMEN STAFF, PLAYERS, AND SEAMEN SUPPORTERS EVERYWHERE
1. After some discussion we are proud for choosing us
YES, I AM VERY PLEASED, AND ALSO PROUD TO BECOME A MEMBER OF THE SEAMEN FOOTBALL FAMILY. THANK YOU VERY MUCH FOR HIRING ME AS YOUR DEFENSIVE COORDINATOR.
2. Your story about football is really interesting let to the Seamen supporter your carrier
FOOTBALL FOR ME HAS BEEN A WAY A LIFE FOR ME. IT IS THE GREATEST GAME ON EARTH. SINCE MY EARLIEST OF MEMORIES, JUST ABOUT EVERY YEAR, FOOTBALL HAS BEEN A MAJOR ELEMENT OF MY LIFE.
AS A VERY YOUNG CHILD, I STARTED BREAKING DOWN OLD 8-MILLIMETER FILMS OF NFL TEAMS THAT MY FATHER WOULD HAVE AROUND OUR HOME BECAUSE I WANTED TO SEE WHY HE WAS SPENDING SO MUCH TIME WATCHING THEM.
DURING THOSE YEARS, (BUFFALO BILLS HEAD COACH) REX RYAN'S FATHER, BUDDY RYAN, WAS ALSO MY FATHER'S COACH AND SO I WOULD BEGIN LEARNING MORE ABOUT FOOTBALL, IN BETWEEN COLLECTING THE FOOTBALLS AROUND THE FIELDS AND WASHING SOCKS AND PRACTICE PANTS DURING NEW YORK JETS PRACTICES, AS A BALLBOY. I WOULD SEE REX, HIS BROTHER AND FATHER, AND MOST OF THE OTHER NFL COACHES EQUIPMENT MANAGERS, AND PLAYERS DURING THAT ERA OF MY LIFE. FOOTBALL WAS YEAR-AROUND.
AS I GREW OLDER, I BECAME A SUCCESSFUL QUARTERBACK, THEN AN OPTION QUARTERBACK, THEN A SAFETY, AND FINALLY A CORNER BACK AND KICK RETURNER DURING MY YEARS AT UCLA. I WOULD PLAY IN A ROSE BOWL, A COTTON BOWL, AND ALOHA BOWL, AND A FREEDOM BOWL DURING MY YEARS AT UCLA, WITH TROY AIKMAN AT QUARTERBACK, AND KENNY NORTON JR AT THE MIC LINEBACKER POSITION. HAVING SUFFERED A BROKEN FOOT IN MY SENIOR YEAR, I WOULD MISS THE NFL DRAFT AND I WOULD GO ON TO SPEND 2 YEARS AT NFL FREE AGENT CAMPS TRYING TO MAKE TEAMS BEFORE I REALISED THAT MY DAYS AS A PLAYER WERE OVER.
ONCE I STOPPED PLAYING, I FOCUSED MY CAREER AROUND SOFTWARE DESIGN AND CREATION TO MAKE A LIVING. I WOULD CREATE ONE OF THE FIRST JOHN MADDEN NFL GAMES EVER MADE, CREATE STUDIO WORK FOR WALT DISNEY AND FOX SPORTS, THEN I WENT TO WORK IN THE FRONT OFFICE OF THE CLEVELAND BROWNS AND THE NFL. AFTERWARDS, I WOULD WORK AS A FREELANCE ASSISTANT HELPING NFL COACHES I HAD KNOWN OVER THE YEARS TO PREPARE GAME FILMS AND STATISTICS FOR THEIR OWN GAMES. I DID THIS FOR THE SAN FRANCISCO 49ERS, THE OAKLAND RAIDERS, AND THE BALTIMORE RAVENS.
DURING MY CAREER, I CREATED THE FIRST-EVER VIRTUAL REALITY SIMULATOR FOR NFL QUARTERBACKS. I WOULD LATER FIND MY WAY BACK TO THE FOOTBALL FIELD, BUT FINALLY DOING SO AS A COACH, WHICH IS WHAT I DO TODAY. AT THE CONCLUSION OF THE 2015 SEASON, AS THE HEAD COACH OF THE OREBRO BLACK KNIGHTS OF SWEDEN, I BUILT A DEFENSE THAT FINISHED RANKED 12TH IN EUROPE AND 1ST IN SWEDEN, AND WE PLAYED IN THE CHAMPIONSHIP FINALS AGAINST THE CARLSTADT CRUSADERS.
3. You know the big competition we have in Milan, two strong team whit big passion
YES, IN MY MIND, THERE ARE ONLY TWO REAL TEAMS IN MILAN FOR THE 2017 SEASON – THE RAMS MILANO AND THE MILANO SEAMEN. SINCE THE RAMS DO NOT PLAY 11-MAN FOOTBALL IN THE IFL, THERE IS LITTLE DOUBT THAT THE SEAMEN WILL RETURN TO GLORY AS CHAMPIONS THIS COMING SEASON AND I CAN NOT WAIT TO GET ON THE FIELD AND HELP US PREPARE FOR THIS – ONE GAME AT A TIME.
ALTHOUGH THERE IS ANOTHER IFL TEAM IN MILANO THAT PUTS ON ORANGE AND BLACK UNIFORMS, THEY LOOK AS THOUGH THEIR BEST DAYS AS A TEAM ARE BEHIND THEM NOW, AND I LOOK FORWARD TO HAVING TO OPPORTUNITY TO HELP MAKE SURE THAT THIS BECOMES THEIR REALITY.
THE SEAMEN WITH BE THE DOMINANT TEAM IN THE IFL DURING THE 2017 SEASON, AND BEYOND.
4. Your philosophy of football?
PHILOSOPHICALLY, FROM MY OWN PERSPECTIVE, FOOTBALL CAN ONLY BE PLAYED ONE WAY ON DEFENSE: IF OUR OFFENSE NEVER SCORES A SINGLE POINT IN A GAME, WE WILL STILL WIN THAT GAME.
HOW? IF WE PLACE THE STRATEGY ASIDE FOR A MOMENT, IT BECOMES EVIDENT THAT OUR FOREMOST GOAL IS TO SCORE ON DEFENSE. WE DON'T JUST TAKE UP SPACE ON THE FIELD AND TRY TO MINIMIZE DAMAGE DONE TO OUR DEFENSE BY AN OPPOSING OFFENSE. WE FIND OUT WHERE AN OFFENSE IS ATTACKING BEFORE THEY DO IT, MEET THEM THERE AT THE POINT OF ATTACK, AND TAKE THE BALL AWAY FROM THEM. THIS SHOULD BE WITHIN THE MINDSET OF EVERY DEFENSIVE PLAYER ON THE FIELD. IT'S NOT ABOUT BEING COMPLEX AS A UNIT. THIS CAN BE ONE OF THE WORST SINS A COACH CAN COMMIT FOR HIS TEAM. PLAYERS TEND TO NOT PLAY TO THEIR FULL CAPACITY WHEN THEY HAVE TO SPEND TOO MUCH TIME THINKING ABOUT WHAT HAS TO BE DONE ON EACH PLAY. IT'S ALL ABOUT BEING WELL-PREPARED TO BEAT THE MAN ACROSS THE LINE FROM YOU, AND DOING IT ON EVERY PLAY. IT'S OUR JOB AS COACHES TO MAKE SURE WE GIVE OUR PLAYERS THE BEST POSSIBLE TOOLS AND OPPORTUNITIES TO HELP GET THIS DONE. IT'S ABOUT BEING WELL-BALANCED AND PLAYING PHYSICAL ON EVERY PLAY, AS AN ENTIRE DEFENSIVE UNIT.
DEFENSIVELY, I ALSO LOOK TO DO MORE THAT JUST WIN GAMES VERSUS OUR OPPONENTS. MY APPROACH TO FOOTBALL AND WINNING GAMES ON DEFENSE IS TO BUILD A PHYSICALLY DOMINATING DEFENSIVE FORCE THAT IS FAST AND CAN FORCE ERRORS AND BREAK ANY OFFENSE OVER THE COURSE OF 3 QUARTERS – SOMETIMES DURING A SINGLE DRIVE – WHILST GIVING UP NO BIG PLAYS – EVER. MY GOAL IS TO USE THE 4TH QUARTER TO PUNISH THAT OFFENSE FOR JUST SHOWING UP TO PLAY. PLAYERS SHOULD TAKE PRIDE IN PLAYING CLEAN AND WITHIN THE RULES OF THE GAME, AND HITTING HARD AND AS MUCH AS POSSIBLE, FROM THE SNAP OF THE BALL, TO THE WHISTLE OF THE REFEREES, AT THE SAME SPEED AND FORCE, ON EVERY SINGLE PLAY. THIS SHOULD BE DONE TOGETHER, AS A TEAM. WHEN TEAMS ACHIEVE THIS, THEY BECOME CHAMPIONSHIP CONTENDERS.
5. Did you know your new players?
SINCE I HAVE LIVED IN MILANO, I HAVE SEEN MANY OF THE SEAMEN PLAYERS – PAST AND PRESENT – OVER TIME – ON AN OFF THE FIELD. I MAY HAVE EVEN COACHED A FEW OF THEM, AND HAVE COACHED AGAINST THEM AS WELL. HAVING JUST SIGNED WITH THE TEAM, I AM VERY EXCITED AND LOOKING FORWARD TO MEETING EVERY SEAMEN PLAYER AND COACH. FOR THE 2017 SEASON.
6. We know you really love this sport but what is your really feeling whit football
I HAVE TWO ARMS, TWO LEGS, AND TWO HANDS – AND A FOOTBALL!
WHAT I HAVE LEARNED ABOUT FOOTBALL, I BELIEVE, WAS MEANT TO BE SHARED WITH OTHERS WHO HAVE THE SAME PASSION AS I DO ABOUT THIS SPORT. FOOTBALL IS WHAT I KNOW, AND THROUGH FOOTBALL, IF OUR PLAYERS CAN LEARN AND GROW TO FULLY TRUST ONE ANOTHER – TRUST THE PLAYER WHO LINES-UP NEXT TO THEM WHEN THE GAME IS AT ITS HEIGHT IN COMPETITION, THEN THIS BECOMES THE REAL BEAUTY OF PLAYING THIS GAME. WHEN PLAYERS WALK OFF OF THE FIELD FOR THE LAST TIME, THE MEMORIES THEY CHERISH WILL MOST LIKELY BE ABOUT THOSE WHOM THEY HAVE LAUGHED, CRIED, AND BLED WITH DURING THE HEIGHT OF THEIR COMPETITION, AND NOT NECESSARILY THE GAMES THEY WON, BUT WHO THEY WON THOSE GAMES WITH SOON COMES FRONT AND CENTER WITH THE MEMORIES THEY HAVE. IN ORDER FOR THIS TO HAPPEN, OUR TEAM WILL BE REQUIRED TO BE A FAMILY AND NOT JUST A GROUP OF GUYS WHO GET TOGETHER EVERY WEEKEND TO PLAY.
7. You living in Milan from long time, why?
I FIRST CAME TO MILANO TO WORK ON A SOFTWARE PROJECT. DURING THAT PROJECT, I MET MY BEST FRIEND WHO WOULD LATER BECOME MY WIFE. TOGETHER WE HAVE OUR FAMILY NOW AND ALTHOUGH WE DO GET TO TRAVEL BACK TO THE UNITED STATES OCCASIONALLY, WE WILL ALWAYS CONSIDER MILANO AS OUR HOME. WE CHOOSE MILANO. BEING HERE IS VERY IMPORTANT FOR US AND FOR OUR FAMILY.

8. The goal for this season?
GOALS FOR THIS SEASON INCLUDE MAKING SURE THAT I AM DOING EVERYTHING I CAN AS A COACH TO HELP OUR PLAYERS ACHIEVE MAXIMUM OUTPUT ON EACH PLAY – BOTH IN PRACTICE AND IN ALL GAMES.
ANOTHER GOAL IS TO TEACH POSITIONS TO OUR PLAYERS IN A MANNER SO THAT LEAVES NO QUESTIONS ABOUT TECHNIQUE AND ALIGNMENT AND ASSIGNMENTS ONCE WE BEGIN OUR CHAMPIONSHIP SEASON.
AND THE OVERARCHING GOAL ABOVE ALL IS TO ASSIST COACH ADDONA AND THE REST OF OUR COACHES AND PLAYERS IN ANY WAY I CAN SO THAT WINNING CHAMPIONSHIPS BECOME HABITUAL ONCE AGAIN FOR THE SEAMEN, BEGINNING IN 2017.
FOR OUR DEFENSIVE UNIT, EXPECTATIONS ARE TO ACHIEVE THE FOLLOWING AT THE START OF REGULAR SEASON:
1. GIVE UP NO BIG PLAYS OF 20+ YARDS IN OUR SECONDARY.
2. HOLD OUR OPPONENTS TO 300 YARDS OR LESS OF TOTAL OFFENSE.
3. HOLD OUR OPPONENTS TO 17 POINTS OR LESS IN TOTAL SCORING.
4. CREATE TURNOVERS THROUGH PLAYING PHYSICAL FOOTBALL.
5. SCORE ON DEFENSE.
9. Why finally you are having decide to be our defensive coordinator
THE LEVEL AND TALENT ON THE SEAMEN IS EXCEPTIONAL. THE DECISION TO HELP COACH THE SEAMEN AS A DEFENSIVE COORDINATOR FOR HEAD COACH TONY ADDONA AND SEAMEN COACHING STAFF WAS NEVER A DIFFICULT DECISION TO MAKE. AS A LOCAL COACH, I HAVE ALWAYS ADMIRED THE SEAMEN ORGANISATION AND I AM VERY HAPPY AND PROUD TO HAVE BEEN GIVEN THE OPPORTUNITY TO COACH HERE AT HOME, AS OPPOSED TO HAVING TO TRAVEL TO NORTHERN EUROPE OR GERMANY TO COACH A TALENTED AMERICAN FOOTBALL TEAM IN EUROPE.
10. Did you have something to say to our supporter?
I AM LOOKING FORWARD TO MEETING AS MANY OF THE SEAMEN SUPPORTERS AS I POSSIBLY CAN. THIS ORGANISATION IS SPECIAL AND YOU ARE THE PEOPLE WHO HELP TO MAKE IT SO. I THANK YOU FOR YOUR SUPPORT AND I WILL MAKE MYSELF AVAILABLE IN ANY WAY THAT I CAN TO HELP MAINTAIN YOUR SUPPORT AND ENTHUSIASM FOR OUR CHAMPIONSHIP SEASON.
11. Thanks coach proud to have you on Board
THANK YOU FOR HIRING ME AS YOUR DEFENSIVE COORDINATOR. I AM PROUD TO BE OF SERVICE FOR YOU AND FOR THE SEAMEN ORGANISATION.